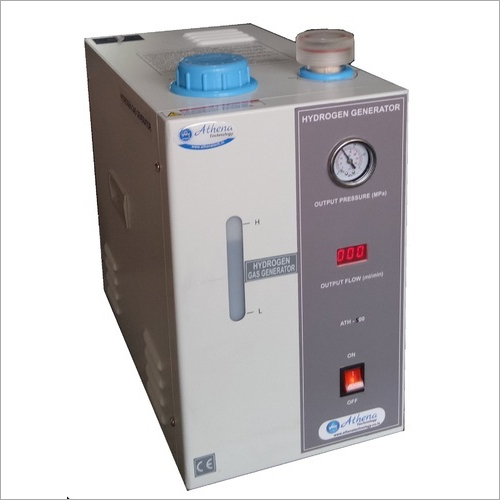 Price And Quantity
135000 INR/Unit

135000.00 - 425000.00 INR/Unit

1 , , Piece
Trade Information
20 , , Piece Per Month

2 Week
Product Description
Description A Hydrogen Gas Generator is a device used to generate a gas mixture containing hydrogen. It is typically used in industrial applications such as fuel cells, chemical processing, and welding. The generator typically uses a chemical reaction to generate the hydrogen gas. This reaction can be either electrochemical or thermal depending on the type of generator used. The hydrogen gas produced is often used in fuel cells where it is reacted with oxygen to generate electricity.
Frequently Asked Questions
Q1. How does a hydrogen gas generator work?
A1. A hydrogen gas generator works by combining hydrogen with oxygen in a process known as electrolysis. This process involves passing an electric current through water, which causes the water molecules to split into hydrogen and oxygen. The hydrogen is then collected and used as fuel.
Q2. What are the benefits of using a hydrogen gas generator?
A2. The main benefit of using a hydrogen gas generator is that it produces cleaner burning fuel than traditional fossil fuels. Hydrogen gas is also a renewable and sustainable source of energy, making it a great choice for powering homes and businesses. Additionally, hydrogen gas generators are more efficient than traditional combustion engines, providing a more cost-effective power solution.
Q3. Is a hydrogen gas generator safe to use?
A3. Yes, hydrogen gas generators are safe to use when properly installed and maintained. Hydrogen gas itself is not flammable, but it can still be dangerous due to its explosive nature when combined with other substances. Therefore, it is important to ensure that proper safety protocols are followed when handling and storing hydrogen gas.
Q4. How long can a hydrogen gas generator run?
A4. The length of time a hydrogen gas generator can run depends on the size of the generator and the amount of fuel available. Generally, a hydrogen gas generator can run for many hours or even days without interruption.
Q5. Are there any drawbacks to using a hydrogen gas generator?
A5. One of the main drawbacks of using a hydrogen gas generator is the cost. Hydrogen gas generators can be more expensive than traditional fossil fuel generators, making them less economical in some cases. Additionally, the setup and maintenance of a hydrogen gas generator can be complex and requires specialized knowledge.
Other Products in 'Lab Gas Generators & Equipment' category
Get in touch with us